Encompassed with beautiful valley and hilly terrains, Pushkar in Rajasthan is one of the most favourite travel destinations of the travellers arriving to travel Pushkar. Home to the biggest camel fair in India held in October or November and around 400 temples; Pushkar also has the honour of having the only Brahma Temple in India. Travel Pushkar to visit the holy Pushkar Lake that makes Pushkar, a pilgrimage tourist destination. People from all over India gather during the Kartik Month to pay obeisance to Lord Brahma. Amongst the numerous temples, the famous temples in Pushkar are the Savitri temple, the Rangji temple, the Mahadeva temple, Varaha temple and Man Mahal temple. Visit the markets during Pushkar travel, ideal for purchasing embroidered and painted textiles and also old silver jewellery.
Travel Destinations in Pushkar
Pushkar Lake: The Lake is surrounded on all four sides by desert and hills. The Nag Pahar (Snake Mountain) separates the Pushkar Lake from Ajmer. The legend associated with the Pushkar Lake is that Kalidas wrote the Abhigyan Shakuntalam in the picturesque location of this lake. The Panchkund and a cave located near the lake are not to be missed by you during your Pushkar travel.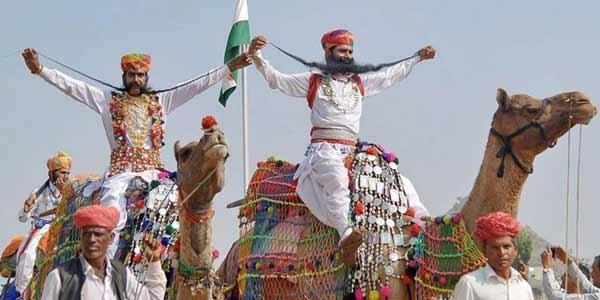 Pushkar Fair: The Pushar Fair is the largest camel fair in India held annually in October/November. The most important day is on the full moon of Kartik when pilgrims take a holy dip in the Pushkar Lake. Apart from a large sale of cattle, leatherware, clothes and household items; the most exclusive events of the fair are camel-cart races and cultural events.
Man Mahal: The former residence of Raja Man Singh, Man Mahal, on the banks of the Pushkar Lake is now converted to RTDC Sarover Tourist Bungalow. Also a must visit is the heritage hotel Pushkar palace (Kishangarh House) that adjoins the Man Mahal.
Pushkar is known for its serene atmosphere for most of the year. During the Pushkar Fair the town is completely transformed and is enveloped in a festive atmosphere. You can witness the serene and spectacular aspects of Pushkar, when you travel to Pushkar in Rajasthan India.
Recommended Tours
Camel Safari in Rajasthan
11 days/ 10 nights
Delhi - Jaipur - Jodhpur - Lathi - Dalasar – Mulana – Zarat - Jaisalmer – Delhi
Rajasthan Heritage Tour
15 nights / 16 days
Samode - Nawalgarh - Mandawa - Bikaner - Jaisalmer - Jodhpur - Ghanerao - Ranakpur - Udaipur - Deogarh - Jaipur - Kanota - Agra - Delhi
Forts & Palaces of Rajasthan
14 nights / 15 days
Delhi - Agra - Fatehpur Sikri - Sawai Madhopur - Kota - Udaipur - Kumbhalgarh - Rohet - Jodhpur - Pushkar - Nawalgarh - Neemrana - Delhi
Golden Triangle and Rajasthan Tour
7 days/ 6 nights
Delhi - Agra - Jaipur - Ranthambore - Pushkar
Rajasthan Wildlife Tour
15 Nights/ 16 Days
Delhi - Jaipur - Ranthambore Tiger Park - Ranthambore - Bharatpur - Agra - Orchha - Khajuraho - Chitrakoot - Varanasi - Delhi
Royal Rajasthan Tour
21 days/ 20 nights
Delhi - Shekhawati - Bikaner - Jaisalmer - Khuri - Jodhpur - Ranakpur - Udaipur - Chittorgarh - Bundi - Pushkar - Jaipur - Ranthambore - Agra